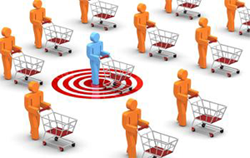 THE ERA OF INDIVIDUAL PRIVACY may turn out to be a mere blip in the sequence of human history, as the smothering embrace of the World Wide Web makes our every click and consumption act a new molecule in the Big Data tsunami. Marketers salivate at the potential to sift the flow and aim relevant offers with pinpoint accuracy.
If they have their way unimpeded, privacy may turn out to be the human right that never was. People with means may put up barriers to make their personal information difficult to obtain. Everybody else would stand naked in the virtual town square, shielded only by the sheer numbers of their peers.
No wonder reasonable people worry that targeting may easily transmute into stalking when marketers apply automation to their process. The mechanisms and practices are not readily visible to normal citizens. I think this makes the reality both better and worse than it really seems.
This morning I offered this perspective on RetailWire.com as part of a discussion, Are Shoppers Entitled to Privacy While They Shop? This is a topic rife with assumptions that deserve to be challenged.
Here's my take:
There is no natural right to privacy in the public domain. But protecting privacy may be the preferred practice for marketers and even governments.
If I enter a place of business (in-store or online), I should reasonably expect that my behaviors are open for observation.
But I'm not obligated to like or accept this. I can vote with my feet, clicks and dollars by preferentially visiting or patronizing establishments that adhere to a less creepy standard.
So I would propose that marketers make a habit of disclosure that is not buried on page 18 of the terms of use. Reminders about shopper tracking should be automatic and opt-out mechanisms provided.
If consumer privacy can be bypassed in the name of marketing relevancy, then certainly the marketers themselves should have zero expectation of privacy about their methods and objectives.
Disclose. Disclose. Disclose. Let shoppers tell you what they will accept; then market to meet that expectation.
[Tenser excerpt from
Are Shoppers Entitled to Privacy While They Shop?
discussion on RetailWire.com, Mar. 15, 2013.]
© Copyright 2013 James Tenser