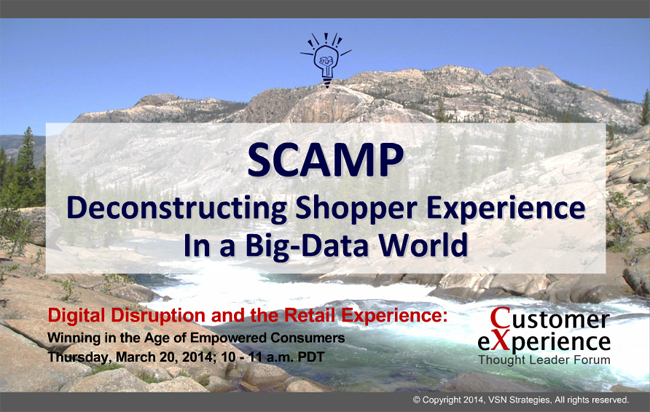 HOW SHALL WE UNDERSTAND SHOPPER EXPERIENCE in the present era of digital and social media immersion outside the store?
I've been insisting for some time now that the walls of the store are dissolving before our eyes as shoppers arrive pre-conditioned, pre-considered, even pre-decided due to their SoMoLoMe experiences outside of the building. Earlier this month I had the privilege of sharing some ideas about the flip side of this equation as participant in an excellent webinar, "Digital Disruption and the Retail Experience: Earning Loyalty in the Age of Empowered Consumers."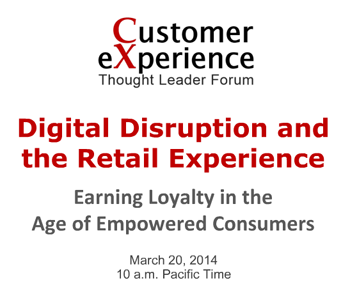 The event was part of the Customer eXperience Thought Leader Forum series, produced by our good friends at CustomerThink. Conformit sponsored. I joined Miguel Ramos, Mobile Practice Lead at Confirmit, to explain how the retail enterprise can be re-engineered for success in the age of empowered consumers.
To make my points, I updated SCAMP, a model I developed for understanding customer experience in the physical store. The new wrinkle was to examine with a few examples how social, mobile, and digital experiences are influencing retail experience engineering in an era where Big Data flows can overwhelm store data. SCAMP is a model with five pillars: Service, Convenience, Ambiance, Merchandising, and Price, I originally proposed here in TensersTirades in 2008.
I invite you to click the images above to access the full webinar recording or to download a PDF copy of the slide deck.
© Copyright 2014 James Tenser