ASSORTMENT IS A CRUCIAL AREA of retail practice about which much knowledge is assumed, but far less is generally understood. Leading practitioners are moving swiftly to adopt superior business processes that turn assortment into a competitive edge:
They incorporate cannibalization and transferable demand in their assortment decision process.
They gauge the needs and preferences of highest-value shoppers and apply those insights to create cluster- or store-specific recommendations.
If your organization does not yet address these methods, don't be out-maneuvered by competition that does. Learn the five key enablers for assortment optimization success by signing up for this free Webinar: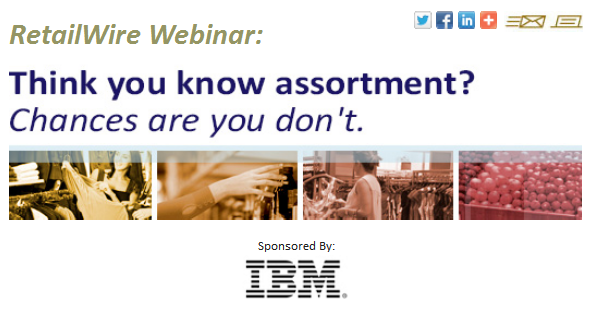 Webinar: Tuesday, Jan 8, 2013, 12:00 PM, EST
Featured speakers:
Jean-Emmanuel Biondi, Principal, Deloitte Consulting
Quentin Smelzer, Market Segment Manager, Assortment & Shopper Insights, IBM
Mark Heckman, Principal, Mark Heckman Consulting – Former VP of Marketing for Randalls and Marsh Supermarkets
Click the banner or this link to sign up at RetailWire.com: bit.ly/Xv5SBO
© Copyright 2012 James Tenser
(This article was commissioned by IBM, which is granted the right of republication. All other rights reserved.)