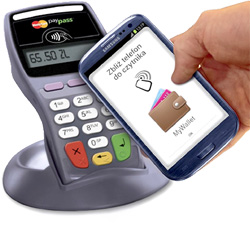 IT'S BEEN A HALF-DECADE since I first got religion about the potential for "contactless payments" using NFC-enabled wallets in mobile phones. A very bright entrepreneur brought the concept to my attention and asked me to help advise his new firm. I agreed and got myself launched up the learning curve.
Most readers probably know that NFC (near-field communications) is a form of wireless radio that works only across a few centimeters. It's perfect for enabling a mobile phone to communicate securely with a point of sale terminal. If the phone has an NFC chip and wallet app installed, a tap can function as a substitute for a card-swipe to enable payments and even frequent-shopper redemptions in a few milliseconds.
Mobile wallets are gaining traction throughout the developed world. The image reproduced here documents Eurobank's version in Poland. Here in the U.S. we observe a slower pace of development, although the recent launch of Apple Pay seems to have kicked up the interest. Then again, yesterday's disclosure of a data breech affecting the competing CurrentC service from Merchant Customer Exchange (MCX) has a lot of heads shaking.