FOR THE 3,100 retail, tech and finance movers and shakers who gathered here in Las Vegas at the inaugural Shoptalk conference this week, an existential question still remains unresolved: Are stores poised to soar in the digital stratosphere or are they circling the digital drain?
"Stores are incredibly challenged," said Ron Johnson, CEO of Enjoy, the online services startup he founded this year following his stunning success with the Apple Stores and his shocking disappointment at JCPenney.
"Over the past 20 years stores have been in a relative decline" he added, referencing the faster growth posted by Amazon.com and other pure-plays and the recent reports of soft quarterly earnings and closings from brick & mortar giants like Kohl's and Macy's.
But Jerry Storch, CEO of Canada's Hudson's Bay Company, which operates Saks 5th Avenue, Lord & Taylor, the Gilt online boutique site, and Germany's Galeria Kaufof as well as its eponymous stores north of the border, would beg to differ.
"That narrative is all wrong," he told a packed Shoptalk audience. "90.2% of sales are still in stores. Amazon still only controls 1.5% of U.S. retail sales."
Storch described a status quo where nearly all retail transactions are digitally influenced or involve at least one digital touchpoint. In the all-channel purchase process, "82% of online retail interactions involve stores at some point," he said, while "70% of digital interactions create a store visit by the customer."
Johnson said the business model for Enjoy – which sells, delivers and sets up high-consideration consumer purchases like home automation and electronics – is investing in high-quality hires versus bricks and mortar.
"Our customers order items digitally and receive a hand delivery and high-quality personal experience, at home," he explained. So far Enjoy is offering services in San Francisco, New York, Los Angeles and Chicago markets, with plans to widen that to 10 markets in its second year. He expects to be "profitable at the market level" by next fall.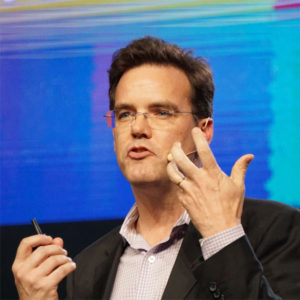 The two general session presentations, which helped get the Shoptalk event off to a high-energy start, offered contrasting views about the future of the store. While Storch's Hudson's Bay has been doubling down on high-quality department store brands and seeking ways to digitally empower them, Enjoy's Johnson is avoiding brick and mortar like a disease, preferring to hire, groom and empower a high-quality field force who can deliver an in-home service experience that is Apple Store-inspired.
Mobile Momentum
The integration of mobile touch points into the shopper experience was a recurring theme throughout the conference, which featured 23 general session presentations and 60 concurrent panel sessions in four tracks over the 2-1/2 days. Speakers addressed mobile payments, data analytics, security, and the fabled Internet of Things.
On the main stage, Nicholas Franchet, Director of Global Vertical Strategy for Google, declared that retail has entered "the mobile first commerce era," where the proportion of shopping journeys that begin on a mobile device will very soon be in the majority. He cited research from Facebook IQ that indicated over the 2015 Holiday season, "45% of all shopping journeys included mobile," while "37% of online purchases were closed on a mobile device."
Mobile is not a technology," he said, "it is a consumer behavior."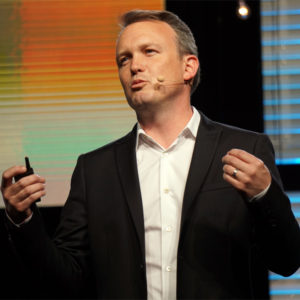 Jonathan Alferness, VP Product Management – Shopping at Google said his company's internal research is making a case for what he called "micro-moments" enabled by mobile. "People are turning to mobile more and more frequently for thinner and thinner slices of time," he said.
Google also mines its user interactions for insights on mobile shopping behaviors, he added, reporting that in 2015 mobile shopping searches increased by 30% year-over-year, and that as many as 70% of Amazon Prime members still used Google to initiate shopping.
Use of in-store mobile search (a euphemism for showrooming but also a way to obtain in-depth product information) also rose by 30% last year, he said, and Google has a current beta product that could enable shoppers to search store inventories to confirm item availability. Alferness said success will depend on capturing local knowledge from a panel of consumers.
At apparel retailer Banana Republic, mobile is front and center, said Aimee Lapic, SVP, Chief Marketing Officer and Online General Manager. "We think about mobile as a starting place for storytelling," she said during a panel on Omni-channel Customer Experiences. "We want to give them a seamless experience."
Links:
Pondering the store's future in an age of web buying – Anne D'Innocenzio, AP
Shoptalk recap: Are stores flying or dying? – RetailWire.com
Ex-CEO Ron Johnson Says J.C. Penney Should Have Stuck With His Plan – Phil Wahba, Fortune
© Copyright 2016 James Tenser