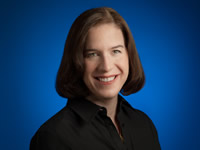 THE DISTINCTION between online and off-line retail sales grows blurrier by the minute, as shoppers meld their consideration and purchasing behaviors into an "all-line" shopping continuum that spans brick, web and mobile.
"The war for store traffic will be won or lost on digital," said Margo Georgiades, President of Americas, Google, who spoke in Tucson, AZ last week at the 19th Global Retailing Conference sponsored by the Terry J. Lundgren Center for retailing at the University of Arizona.
In 2010, U.S. retail stores recorded 39 billion "footsteps" in November-December, she reported. By the same period in 2014 that number had declined to 18 billion. Despite that huge drop-off in store traffic, store revenues grew for the same periods from $641B in 2010 to $737B in 2014.
"Those footsteps didn't go away," she said. They just went online."
Georgiades said today's shoppers are arriving at stores, "more purposeful," as a result of exposure to product and price alternatives already encountered via a variety of digital channels, ranging from traditional media to email marketing to search and soci

al sharing. The always-on ubiquity of mobile devices has shifted these behaviors into high gear.
"Smart phones are changing everything," she said, arguing that they create an imperative for brick and mortar retailers who want to keep their customers engaged and buying. She shared three key propositions:
Own your tribe

. "Are you winning your fair share of traffic before the store? Do you obsess about all their life moments and present in an authentic way, with messaging focused on content, versus product?"

Commit to all-line

. "There is no off-line or online. Making omni-channel real is not easy. Mobile forces you to think about the seamless experience."

Deliver surprise and delight

. "Go from demand to suggest. Are you truly using data to understand your customers and their context? Are you delivering curated experiences and magic moments?"
She added, "If you want to win the war for traffic, you have to win before the store and take advantage of those magic moments in the store."
As is traditional at this event, Georgiades was joined as a speaker by more than a dozen other C-level executives from the retailing industry, including Macy's, REI, PetSmart, Teavana, Whole Foods, Sephora, Gilt, MasterCard and The Container Store. Many of the speakers made reference to the impact of digital experience on their businesses.
The digital proposition is so important to Macy's, now recognized as the 7th largest digital retail business globally in addition to its 800 stores, that it has invested in its own Bay-area Idea Lab, said Terry Lundgren, CEO. It recently introduced an image-search extension to the Macy's app to help shoppers locate desired items by taking digital snapshots.
"Where does the sale belong?" Lundgren asked, then answered, "I'm agnostic about whether it's in-store or on-line. Let the consumer choose where."
Walter Robb, co-CEO of Whole Foods Market, conceded that his company had made its move to digital technology a little late, but stepped forward last year to embrace what he prefers to call "extended experience." He offered as proof: "We are the largest Apple Pay retailer so far."
Sarah Quinlan, SVP of Market Insights for MasterCard Advisors, shared some snapshots from her company's SpendingPulse™ survey, derived from a "big data" examination of sales data tracked across the national retail economy. MasterCard records 160 million transactions per hour, she said.
MasterCard's data indicates that 6.7% of sales were transacted online in March, 2015, she said. (By comparison, e-commerce sales in the fourth quarter of 2014 accounted for 6.7% percent of total sales compared with 6.1% a year earlier, according to the latest U.S. Dept. of Commerce figures.)
Excluding gasoline (which currently accounts for 12% of the total), retail spending in March 2015 increased 4.8% year-over-year, Quinlan added. Small retailers did even better, gaining 7.5%.
© Copyright 2015 James Tenser